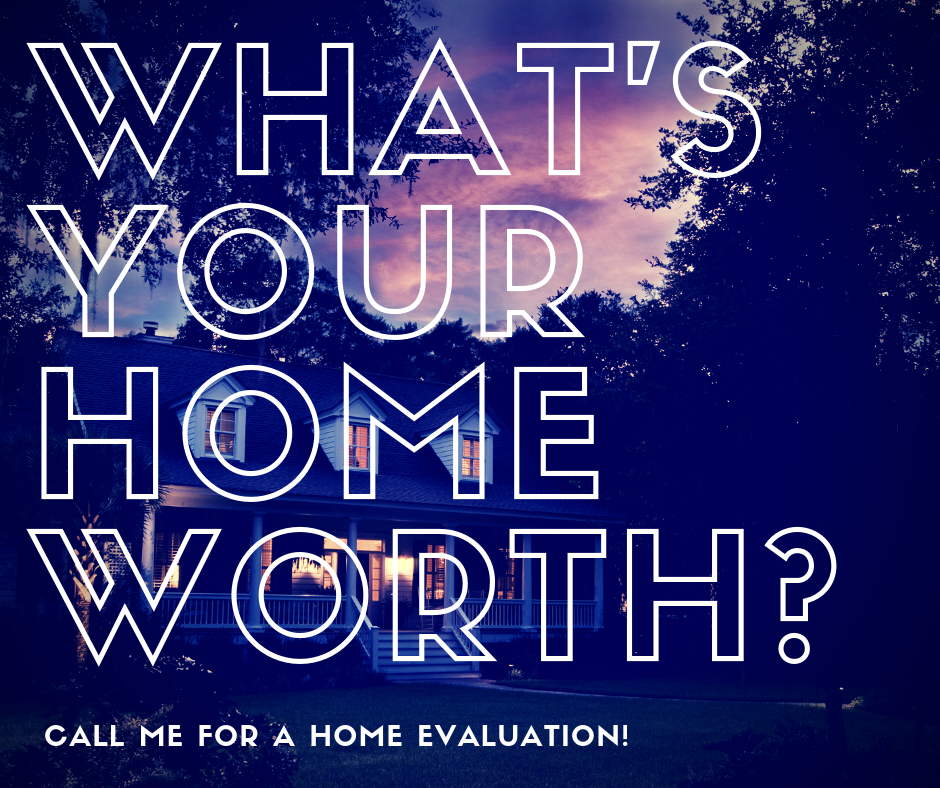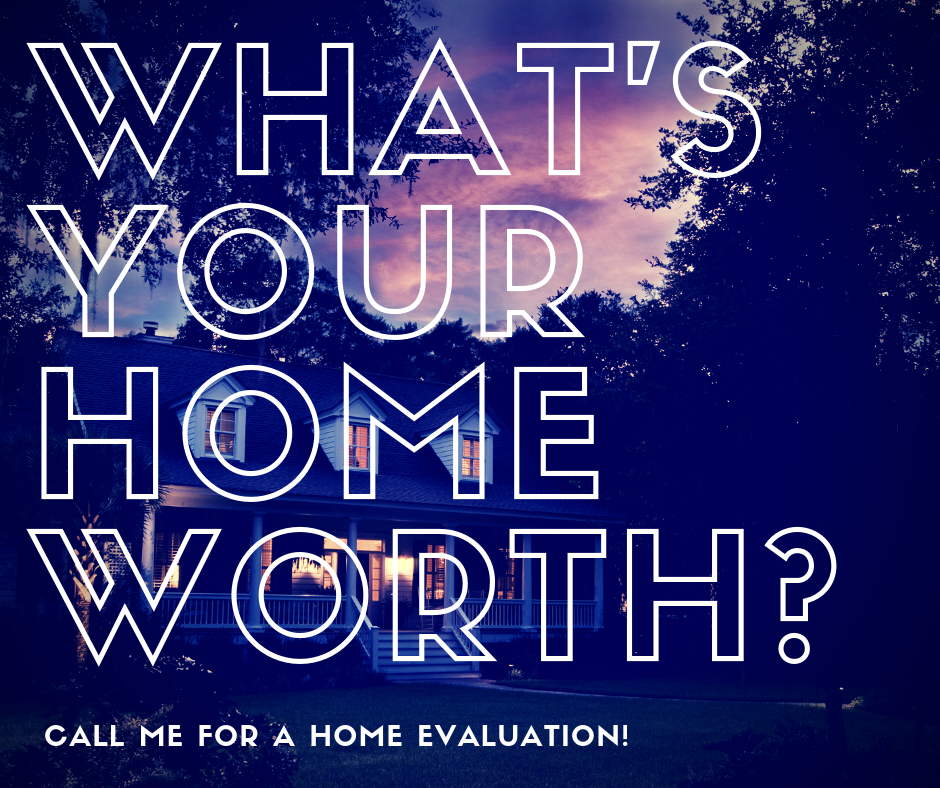 You should be asking yourself, "What is my home worth?"   Why?  Because it could be worth more than you think!   Getting a market analysis is important and is the best way to truly know what it is worth.
How is a market analysis done?
To determine the market value of your home, a real estate professional will look at sold properties that are comparable to your property.   It is best to select homes that are in the same geographic area, same construction type, and similar size.   Once the real estate professional has determined which properties are comparable, they may make some adjustments based on the knowledge they have.   For example, your house has all new flooring, cabinets, and solid surface countertops and the other properties do not.   Another example would be a house that has a basement and others are on a slab.  It is of course not an exact science and real estate agents are not trained appraisers, but agents are given tools to help them do an analysis.  It is important to note that markets change regularly and the value can change based on recently sold properties.
How is a market analysis presented?
It depends on the clients preference, but a market analysis can be presented on paper, via PDF file, or a very interactive and linked presentation.   My preference for presenting a market analysis is via an interactive linked presentation.  The presentation allows the client to look at real time photos, data, and market status of homes.    If a house goes from having a pending transaction to a closed transaction, it will update with the current information for the client.   Maps, color photos, and data from several sources are pulled together into one presentation.
VIEW A SAMPLE MARKET ANALYSIS (CLICK HERE)
What things affect home value?
Market Conditions

Demand
State of Economy
Interest Rates
Financing

Structural Integrity
Architectural Style
Floor Plan
Location, Location, Location
Appropriate upgrades
What things do not affect home value?
The amount you paid for the house
What you want to net from the sale of your house
Over improvements (Example – $60,000 in marble flooring does not add $60,000 in value)
Other Active listings in your area.  (They may be used to determine a pricing strategy, but not what the value of the home is.
Conclusion
At the end of the day, the true market value of a home is what a buyer is willing to pay for it.  I strongly recommend getting a market analysis from a real estate agent.  I am happy to provide it to you in the format you prefer and at no charge!   Send to me the address as well as anything you think may affect the value of your home (recent upgrades, improvements, and additions since you purchased the home).   The market has really increased in certain areas and your house could be worth much more than you think!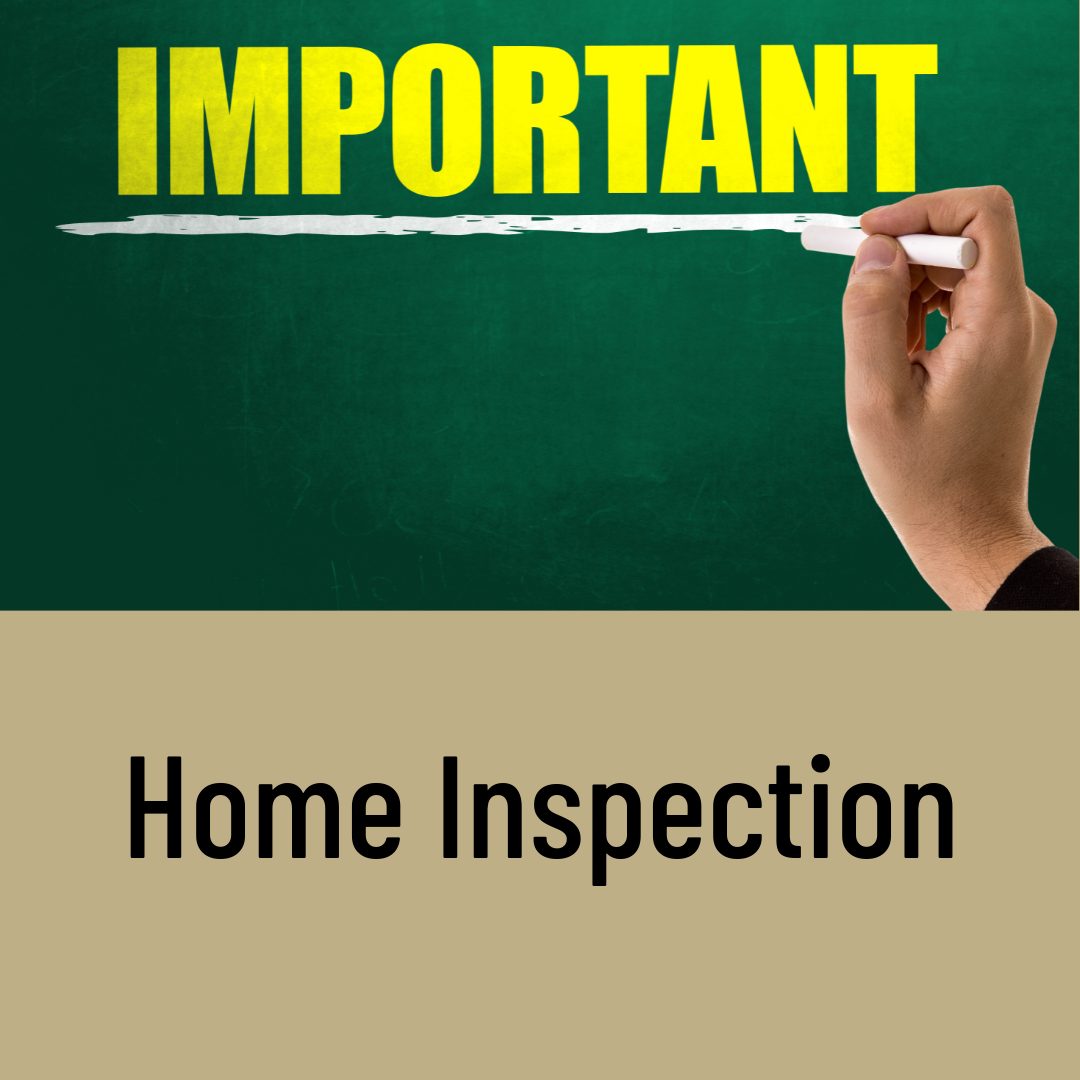 Many buyers wonder if they should have a home inspection contingency in their purchase agreement.   As a REALTOR®, I strongly encourage a home inspection for many reasons.  There are many home inspection companies to choose from.  Factors to consider when choosing a home inspection company are certifications, cost, and availability.  As the buyer, you are welcome to attend the home inspection and ask questions of the inspector.
What Does a Home Inspector Do?
A qualified home inspector looks at the major systems of the house from the foundation to the roof.   An inspector will look at plumbing, electrical, appliances, structures, roofing, and your HVAC (Heating Ventilation and Air Conditioning) System.  The inspector will take many pictures and notes as they go through the house.  A typical home inspection takes 2-4 hours depending on the size of the house and any additional services requested.  Upon completion of the inspection, the inspector will prepare a detailed report for the homeowner and agent to use in negotiations with the seller. Generally,  there is a Basic Home Inspection fee and then there are some ancillary services available.
Radon Testing
Well Water Testing
Septic Inspection
Pest and Wood Destroying Organisms (termites)
Sewer Scope – Ideal for older homes, but also good in new construction.
Your lender may require certain inspections such as well and septic for all FHA/VA/USDA loans.
What does a Home Inspector Not Do?
Home inspectors have been trained to detect certain defects in a house.  They will not advise on the cost of a repair because there are many variables.   They will list items that should be inspected by a qualified contractor for further evaluation.
What happens after receiving the home inspection report?
You will work with your Real Estate Agent to negotiate any needed repairs with the seller.  You will want to have any areas of concern evaluated by a professional before committing to negotiated items.  Your Real Estate Agent is a good resource for finding qualified contractors.   There is no obligation to use someone that has been suggested by your real estate agent.  Real Estate Agents are trained in helping you buy and sell houses and not on building standards or codes.
Recommended Home Inspector in Central Indiana
Heartland Housemaster  317-209-9100  https://housemaster.com/heartland
There are many other home inspectors and I do not guarantee your experience, but I have had great experiences with them over the years.
So often buyers and sellers are afraid to ask questions about the process.  When I get a question more than once, I will get the answers from professionals and talk about it.   So what does a title company do?    Kim Cathcart from Dominion Title Services shared some great information.
When it comes to buying or selling a property, there are various professionals involved in the process to ensure a smooth and legally sound transaction. One such key player is the title company. In this blog post, we will explore the role of a title company and shed light on the important services they provide.
1. What is a Title Company?
At its core, a title company functions as an insurance company that facilitates real estate transactions. They act as a liaison between realtors, mortgage companies, buyers, and sellers. Their primary goal is to coordinate the transaction and ensure that all parties involved are protected throughout the process.
2. Conducting the Closing Process:
A significant responsibility of a title company is to conduct the closing process. Based on the purchase agreement, they gather all necessary information from the parties involved and proceed with the closing. In some states, like Indiana, closings take place at the title company itself, whereas in other states, an attorney may handle the closing.
3. Property Search and Clearing Liens:
As part of their services, title companies perform a thorough search on the property to verify its legal status. This search is conducted to ensure that there are no outstanding liens, judgments, or unpaid taxes associated with the property. Liens can arise when contractors or individuals file a claim against a property for unpaid services. Resolving any liens is crucial before the property can be sold or refinanced.
4. Compliance with the Good Funds Law:
In Indiana, there exists a Good Funds Law that governs the acceptable forms of payment for closing costs. According to this law, if a buyer needs to bring less than $10,000 to the closing, they must provide a cashier's check. However, if the amount exceeds $10,000, a wire transfer from their bank is required. These measures ensure that the funds are guaranteed and safeguard the transaction.
5. Coordinating the Closing Process:
In Indiana, title companies provide a convenient one-stop shop for the closing process. They bring together all parties involved, including the real estate agents and possibly the mortgage company, to the closing. This allows buyers and sellers to not only sign the necessary documents but also provides an opportunity to meet and exchange information. It fosters a seamless coordination of the transaction, eliminating the need for separate closings at different locations.
Conclusion:
Understanding the role of a title company is essential when engaging in real estate transactions. These companies serve as crucial intermediaries, ensuring that the transaction is legally sound and protecting the interests of all parties involved. From coordinating the closing process to conducting property searches and clearing any liens, they play a pivotal role in facilitating successful real estate transactions.
Remember, when you embark on your real estate journey, having a reputable and experienced title company by your side can provide peace of mind and ensure a smooth and secure transaction.
Have you checked your gutters and fascia boards lately?    The Fascia board is the board that is behind the gutter.
Things to look for:
 Gutters and downspouts that are clogged
Downspouts that do not drain away from the house can cause moisture problems in basements or crawlspaces or even foundation damage
Gutters not properly attached can pull away from the house.
The fascia board could be rotting from leaking or clogged gutters
Regular inspection and maintenance can prevent issues and preserve the value of your house.  Simple fixes now can prevent major expenses in the future.
If you notice issues that are beyond the scope of what you are comfortable fixing, I would be happy to recommend a qualified service company to assist you.
There are many benefits to Home Warranty programs for both buyers and sellers.    I spent some time discussing them with Ann Marie Alligood with HSA Home Warranty.  We discussed the benefits to a home warranty in the current real estate market.   There are many companies out there, so I recommend looking at the fine print in their agreements and choose one that works for you.   Prices on warranties run in the $400-$500 range.  Sellers generally offer them to buyers to buyers at a cost to the seller, but a buyer can also buy a warranty.
Benefits to the Seller
The HSA Warranty begins for the seller at the time of listing.   The house will be covered for the seller up to the closing date.  If a covered item needs repaired, the homeowner will just pay the trade call fee.  The seller does not pay for the warranty until closing!  In some cases, the warranty can also be used to repair items noted during the home inspection.  After closing, the buyer will call HSA for any repair issues instead of coming to you or your agent about an issue that came up after closing.
This video is Ann Marie Alligood and I discussing home warranties for sellers.  She is playing the role of real estate agent and I am playing the role of the seller.
Benefits for Buyers
One objection we hear all the time from people considering buying a home is that they don't want the unexpected repair expenses of owning a home.   When renting, the landlord will fix or replace appliances, heating and cooling, and plumbing issues for the tenant.   With a home warranty, many of these same items and more are covered with a trade fee.  A Home Warranty will give you peace of mind as you move in to your new home.  Typically, the seller pays for the first year of coverage as well.  If you don't use it, it didn't cost you anything.  If you do use it, it could save you lots of money and frustration.   You will have one number to call for service.  The warranty company will typically coordinate repairs for you with their vendor partners.  Make sure you read the contract that you receive at closing.
If you have further questions about Home Warranty Programs, please talk to your Realtor.  A Home Warranty is a relatively inexpensive but very valuable investment in the sale or purchase of a home.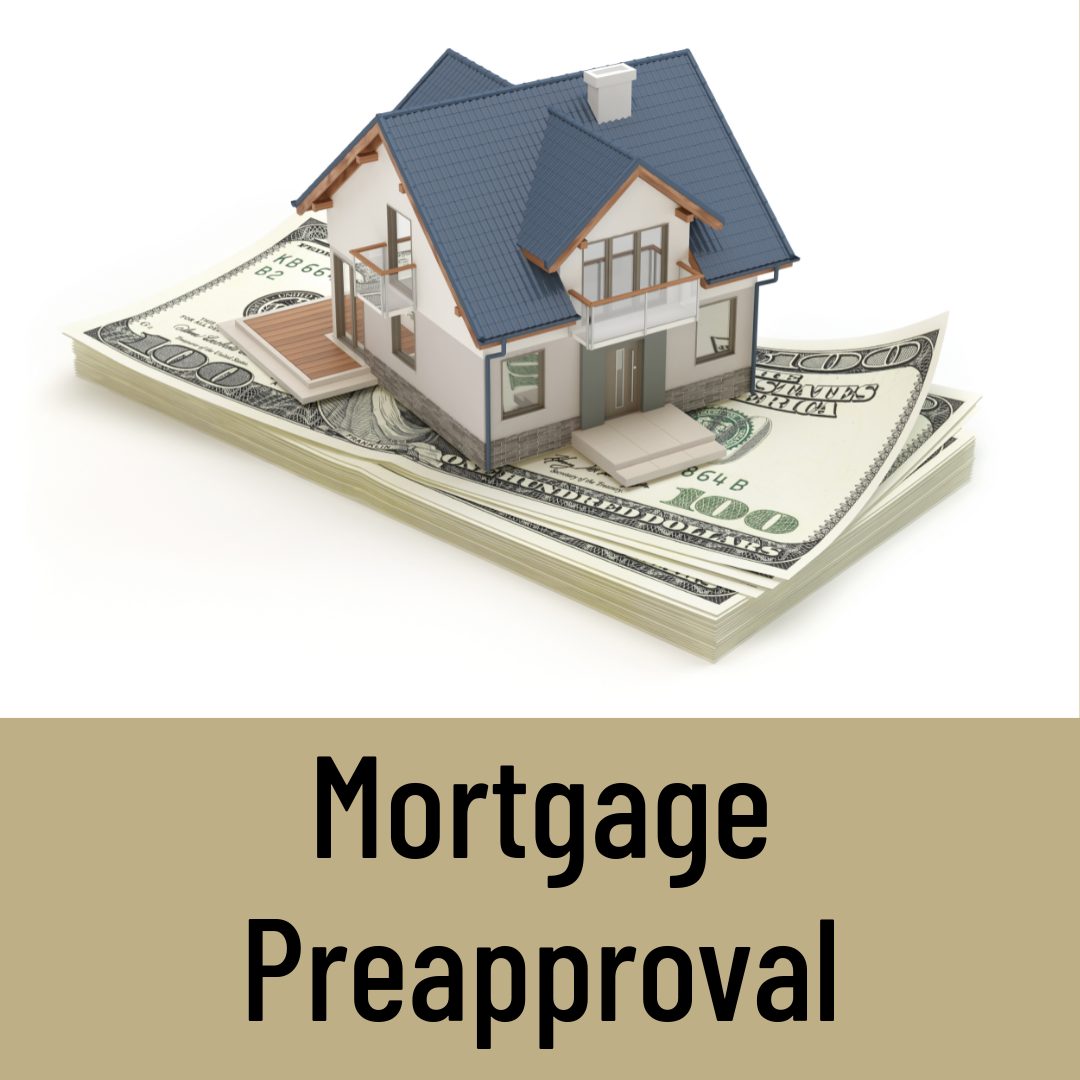 Buyers sometimes wonder why agents are always asking if they are pre-approved for a mortgage.  The short answer is to make sure the agent is searching for properties that they buyer is qualified to purchase.  When you make an offer on a property, your offer will be much more attractive to a seller.  You have taken a step to prove that you are a qualified buyer and the seller is not taking the house off the market for a deal that will not close.  A lot of sellers will not accept an offer without a preapproval letter.
What exactly is a preapproval?
The lender will look at your financial condition and determine how much mortgage you are eligible to obtain.   Information they will need includes:
2 years of employment history
2 years of residence history
Credit Report
Evidence of your income
Depending on your specific situation, the lender then may require additional documentation so that when it comes time to underwrite the loan, they are sure the loan will be approved.
Mortgage lenders are your best resource for determining how much money you will need and what an estimated house payment will be!
Once the lender is satisfied that you will meet the criteria, they will issue a preapproval letter to you indicating the amount of loan for which you are preapproved.
Self Employed?
You will need to provide 2 years of tax returns to confirm your income and if your business is stable.
I am Preapproved…  Now What?
Time to find the home of your dreams!  (I like to use a shopping metaphor – You know what store you can shop in and what you can't)
Work with your Realtor to search for houses you would like to view. 

See my blog post on Top Tips for Online House Hunting

Once you find the perfect house and get an accepted offer it is time to make a formal mortgage application.   Your lender will ask for more documentation to send the underwriters for final mortgage approval.
Enjoy your new home!
Where should I Go For A Mortgage?
There are many options for mortgages out there.  In a future blog post, I will discuss the pros and cons of your options.  My personal recommendation is to use a local mortgage banker.   A local lender will have a better idea of current markets and specific products that could apply in certain circumstances.    There are many great local resources.  Ask your REALTOR®  who they recommend!
Mortgage Broker
Mortgage Banker
Bank or Credit Union
Disclaimer:  I am a licensed REALTOR® and not a mortgage professional.   If you have specific mortgage questions, please talk to a trusted mortgage professional.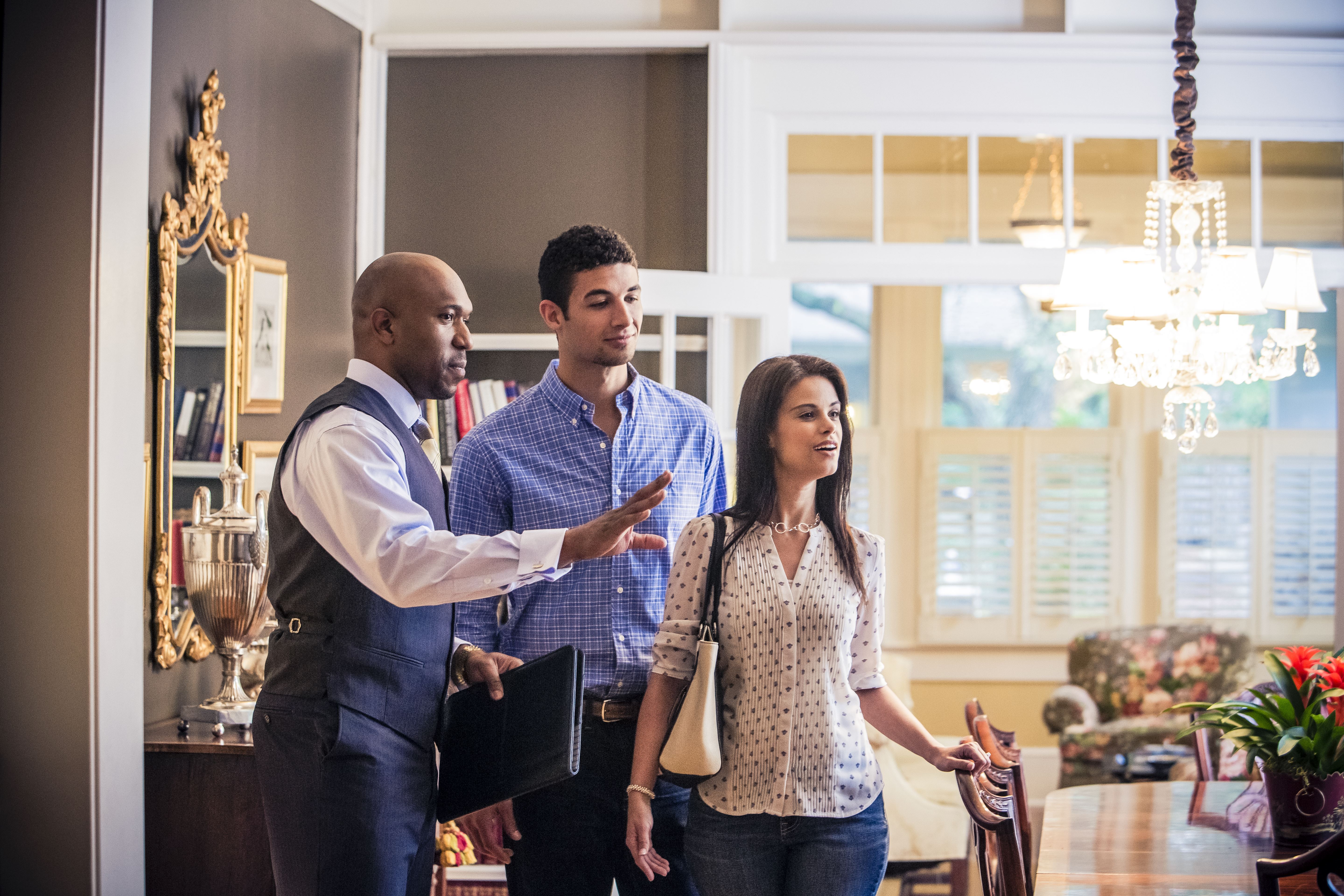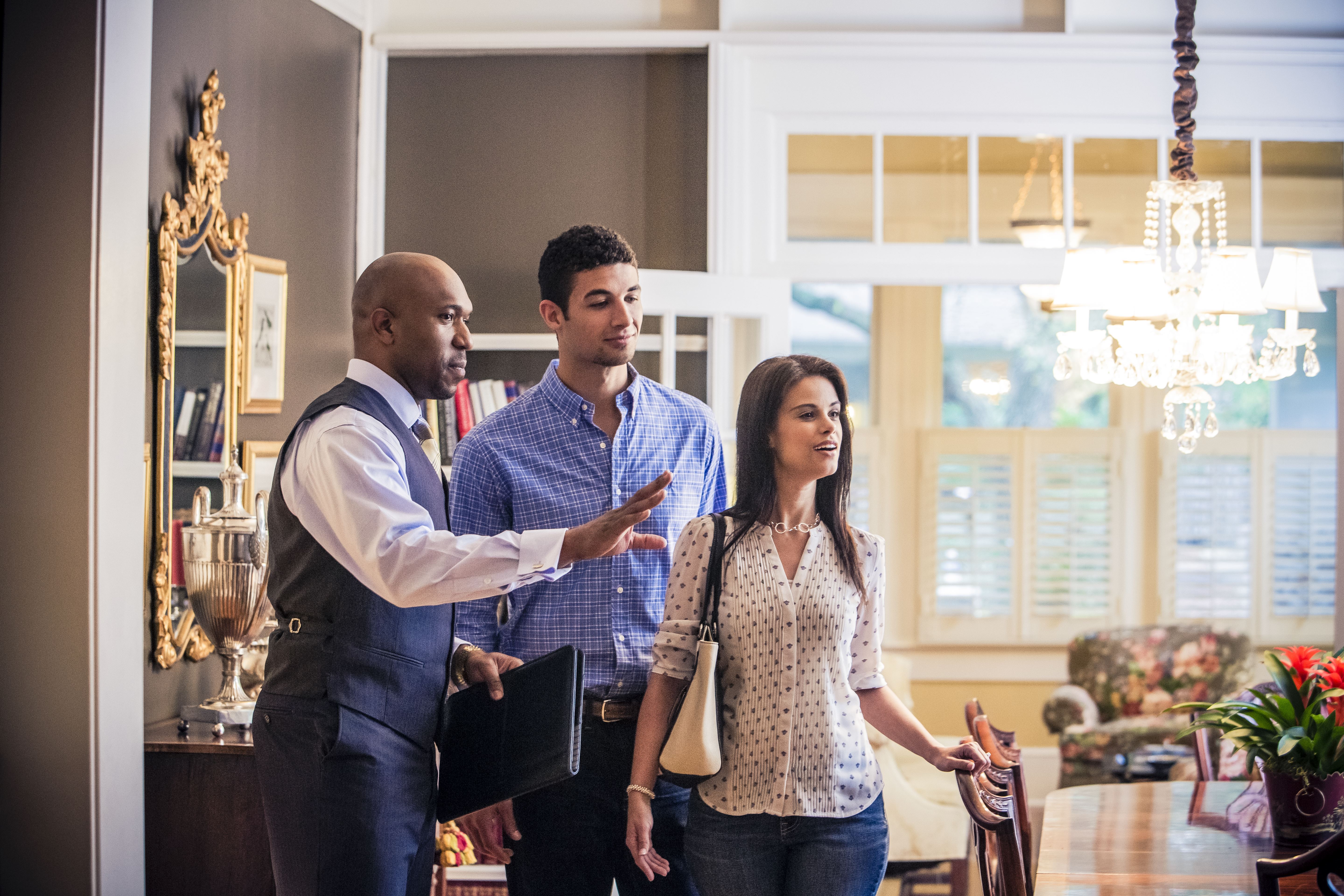 Hunting for a new home online is a great place to start your search, but it should not be your end all be all.  Here are some top tips for online house hunting.   Good listing agents are excellent at highlighting the best features of the home, but keep in mind there may be more than meets the eye. To make the most of your time and efforts and gather a well-rounded picture of home listings online, keep the following three things in mind.
1.  Stay up to date. When you start your search, make sure you find a site that pulls up-to-date listings directly from the multiple listing service (MLS) where real estate agents actively post their most current homes for sale. Many online resources update less often or fail to remove listings that are off the market, making it more difficult to sort through the clutter.  Your real estate agent can also set you up on a targeted search based upon your desired home size, location, school district, amenities, and price.
I recommend Searching From My Website or the Homesnap App
2.  Pictures can be deceiving. Real estate photographers are experts at showing a home in the best possible light. Many use tools and strategies to boost appeal, such as a fisheye lens to make areas look larger and creative editing to make colors and textures really pop. But, often listings will not contain photos of unappealing parts of the home, like small closets or outdated bathrooms.
3.  See it to believe it. Once you find what appears to be your dream home online, call up your real estate agent and schedule a showing. You want to take the opportunity to vet the home in person and explore every part of it before beginning the offer process. Your real estate agent will help you cover all your bases and will ask questions you may not have thought of.
It is highly recommended that you use a real estate agent to assist you in your search.  Often they have insights into particular homes that can help you make an informed decision.  Happy Hunting!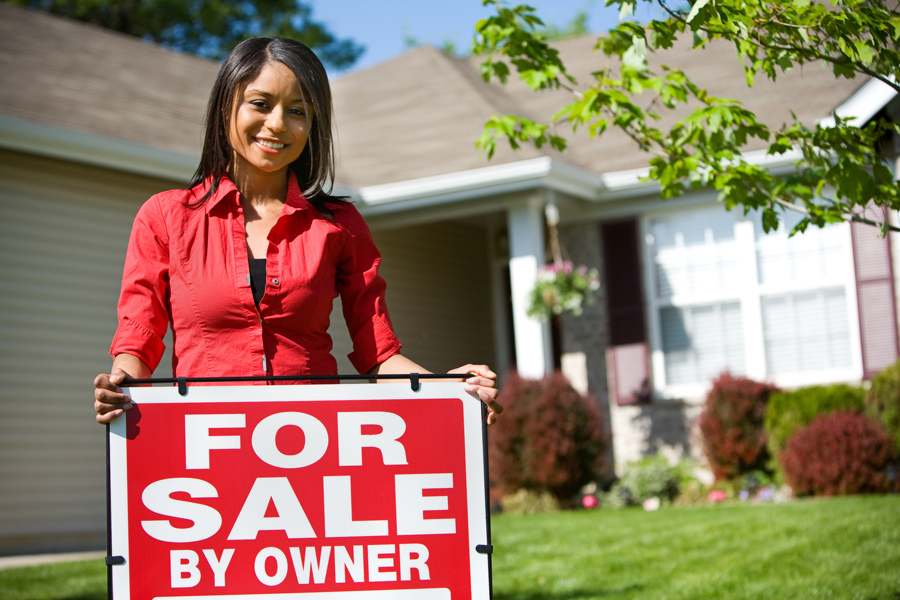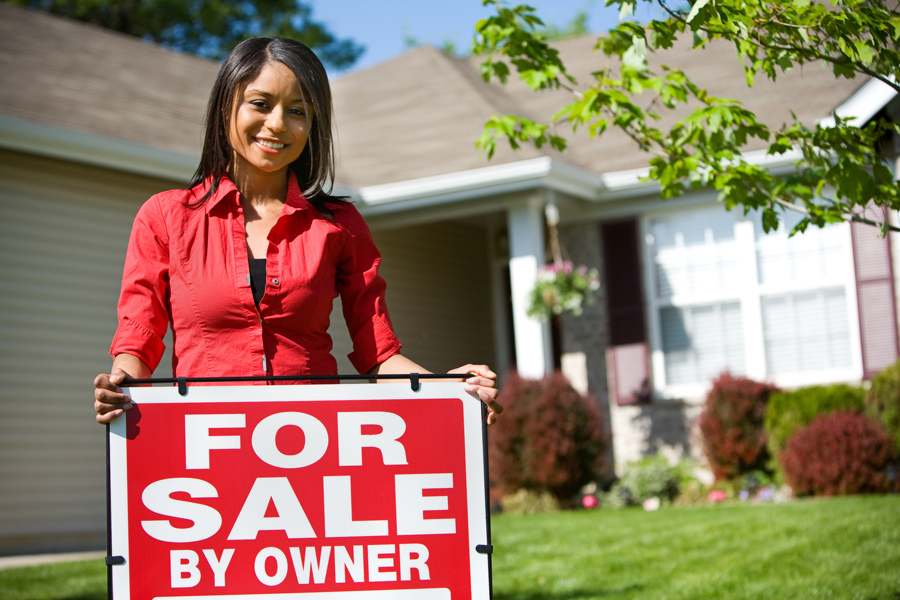 FSBO or For Sale By Owner can be a great challenge for the right person.  First of all, some people would ask why a Realtor would give people information on selling without a Realtor.  The answer is simple – there are some people that want the challenge and can do it, while others will read and as a result determine that they are in over their head and will seek the assistance of a local expert.  Using the following information, you can get that For Sale By Owner sign ready to work for you!
So I want to do a For Sale By Owner…  What now?
This initial phase is critical to a successful For Sale By Owner.    A proper marketing plan can make the difference between a quick sale and a house remaining for sale for a long time.    Positioning your house in the market is the most crucial thing you can do.
 Buy signs for your yard and directional signs from the main roads
Consider having a Pre-Inspection from a licensed Home Inspector to determine any defects or repairs that should be made prior to sale.
Complete a Real Estate Sellers Disclosure Form.  Detailing the conditions of the systems of your house.
If your house was built before 1978, you will also need to have disclosures regarding Lead Based Paint
 Decide what price you want to advertise using current market data
Take some photos to use online if you choose to advertise online
Upload photos to the websites you choose
Create a flyer for potential buyers with photos and information on the house
Install a brochure box by your sign so buyers know where to find more information
Be available 24/7 for phone calls, texts, emails regarding your house
Schedule showings for buyers when they are available
Market conditions (economy, interest rates, employment levels)
Terms offered by the seller
Exposure to the market (marketing, ease of showing, broker representation)
Comparable properties (both active listings and recently sold properties)
Property Features (architecture, amenities etc)
Your motivation as a For Sale By Owner seller
Factors that do not influence what a house will sell for:
 What you paid for the house
What you want to net from the sale of your house
Certain upgrades (e.g. a $40,000 basement renovation does not equal a $40,000 increase in value)
What others outside the industry believe your house is worth
I Found a Buyer!  Now What?
Negotiate the terms of an agreement including Price, Inspections, Closing date, closing costs, any contingencies etc.    I would highly recommend using a real estate attorney to make sure that your interests are protected!
Once an agreement is made, it is time to work towards closing.
Order Title work through a Title Company
Communicate with buyer's lender (if applicable)
If the buyers have an inspection, you will need to negotiate through the inspection response and complete any agreed upon repairs.  As a result, you will need to find qualified contractors to complete repairs.
If the buyer is financing, there will be an appraisal.   Depending on the outcome of the appraisal, there may be more negotiations.
As you get closer to closing, it will be important to complete any forms required by the lender and title company.   Again, you are STRONGLY encouraged to have legal guidance through this part of the process to protect yourself.
At closing, you will need to sign the Sellers Disclosure again, provide keys, garage door openers etc.
Breathe!  You made it!  You successfully navigated the For Sale By Owner process.
This is just an outline of the process.   There are certainly many variables and things that can happen.  It is imperative that you are aware of the issues that could come up and have a resource on where to go for help.  While it can certainly be done, the 2017 National Association of Realtors Report on Buyers and Sellers shows that only 8% of homes were sold by owner.  If you are committed to it, you can do it! Patience is the key to being successful in selling your house by yourself.
Overwhelmed?
It can be very daunting to do this alone.    That's why there are professionals that will handle all the details for you.  I would love the opportunity to assist you through this.  Call or text me today!  317-750-9173.   Email cporter@c21scheetz.com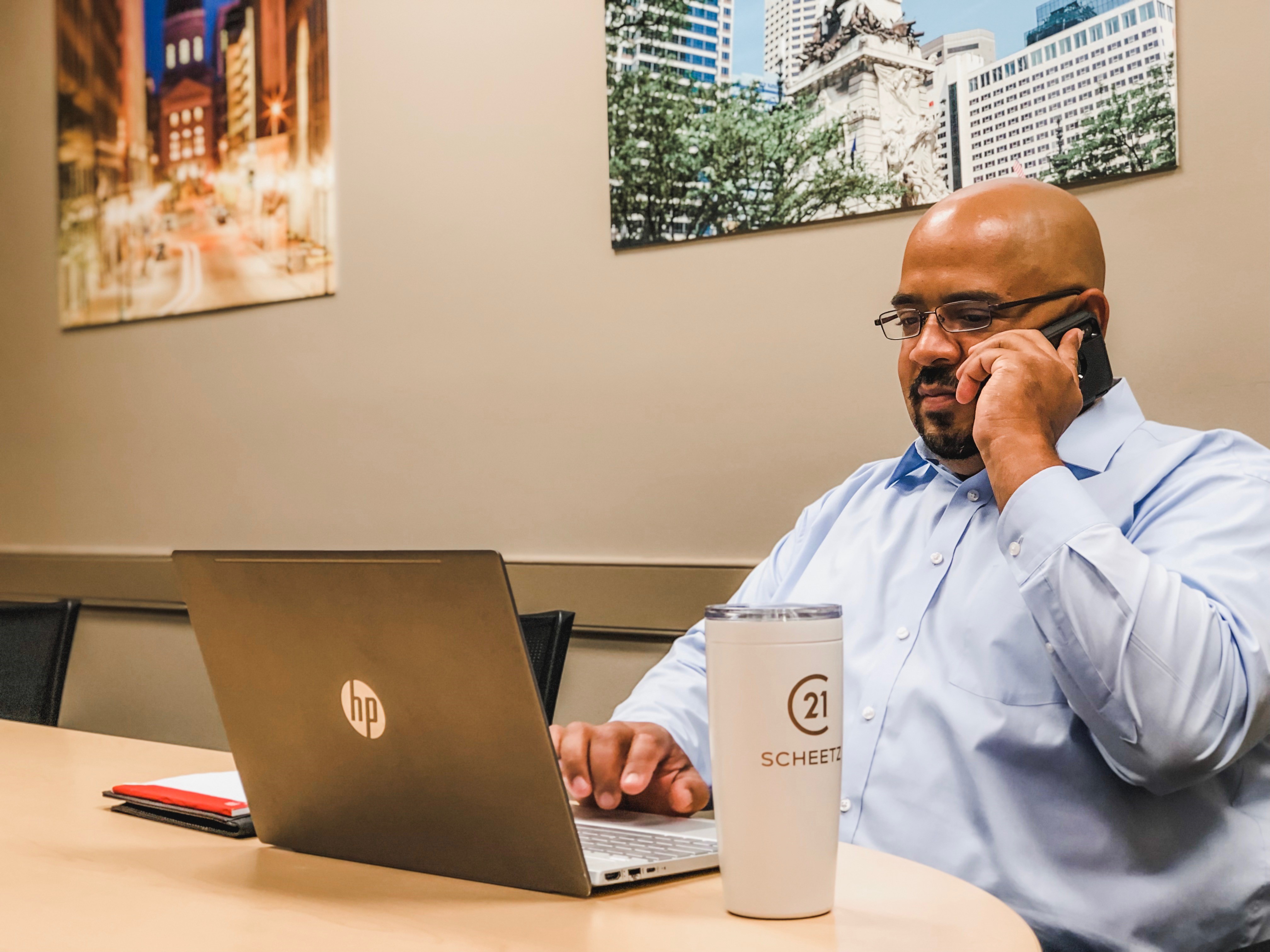 Christopher Porter is a Realtor with Century 21 Scheetz